OUR CATAMARANS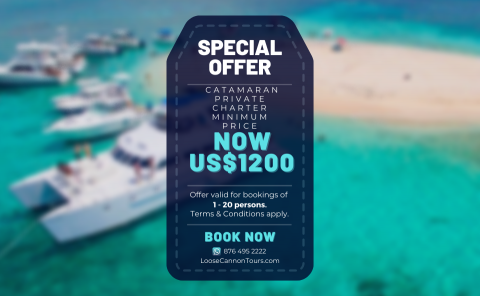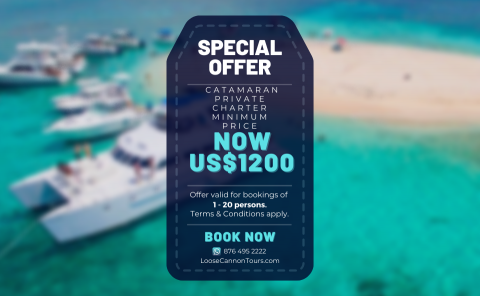 Why choose a loose Cannon catamaran?
Catamarans are the most comfortable and stable vessels on the water. Our large catamarans range from 50-69 feet. Catamarans have two hulls instead of one so they are a lot more stable in the water than a regular boat.
Our Catamarans have much more space than monohulls so they are great for social distancing.
Our boats are well maintained, licenced and insured, and have all the safety equipment required for a commercial operation. Everything has been done to meet highest safety standards.
Our staff are all trained and certified to carry out their functions, and our boats come with multiple lifeguards to ensure your safety, which is our number one priority.
We meet all the requirements of the Maritime Authority of Jamaica, and the Jamaica Tourist Board.
Our pricing is extremely competitive, so you can get one of our catamarans for a small group at the same price you would pay for a much smaller boat that in most cases is not licensed and insured for commercial operation.
Our boats have the highest quality sound systems on the water, food warmers, and a proper bar for your refreshments along with 4 restrooms.
When going to sea, put your safety and comfort first, that's what we do.
Book today and see why we are Rated #1 of 38 outdoor activities in Kingston Jamaica on trip advisor!
Our catamarans are perfect for hosting your special occasions like, birthdays, bachelor and bachelorette parties, weddings, receptions, anniversary, staff parties, staff team building days, product launches, business entertainment, etc.
Let's talk about customising your special event.
CANCELLATION/RESCHEDULING POLICY
One person's perfect day on the water differs from person to person. As a tour and charter company, cancellations with short notice are very costly. At the same time, we understand that things come up and we don't feel it is right for you to lose your entire charter or ticket fee if you have to cancel /reschedule.
Notice of cancellation or rescheduling must be in writing by whatsapp to 876-495-2222 or by email to loosecannonja@gmail.com
FOR TOURS
Our Cancellation policy is simple and strict, but fair. You may cancel your reservation for a tour at any time, but we DO NOT give refunds; rather we will credit your account for use another time.
If you cancel with 24 hours or more notice before a tour, there will be no penalty. However, if you cancel with less than 24 hours notice, or you fail to show up for your tour you will have to pay a JA$3000 or USD$20 rescheduling fee to go out with us on a future date. Unused tickets are valid for only 6 months. Payment for food is non-refundable 24 hours before the cruise
FOR CHARTERS
7 days notice or more: Full Refund
Less than 7 days: 50% Refund